Forklift trucks are a vital part of many operations. They're used to move heavy objects on warehouse, factory floors along with loading and unloading containers at ports. Without forklifts, the cost of production would be much higher due to workers needing to load and unload cargo manually. However, forklift safety is an important consideration since these machines can cause serious foot injuries or death if not operated properly.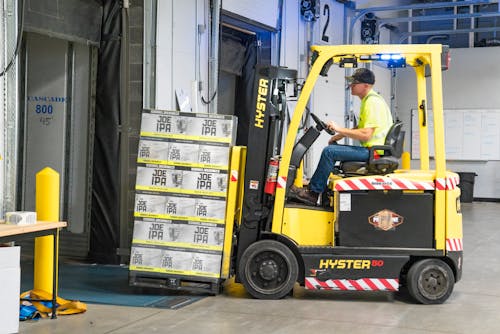 Many people think that it's enough just to get forklifts; however, this isn't always the case. You need to consider some key points when looking for a reliable supplier such as price, reliability, and whether they offer more than just forklift truck safety lights. Keep on reading to find a reliable LED forklift truck warning light supplier in China!
What are the features of a reliable LED forklift warning light supplier?
The price of your forklift safety lights may seem low, but that doesn't necessarily mean it's a good deal. If you get an extremely cheap price for lift trucks, chances are they'll break down very quickly and will need to be repaired or even replaced just after one use. Make sure that forklifts must comply with safety standards set out. For example, the ECE R10 certificate and CE mark.
The price of forklift trucks is different in every country or region; it is important to know that before purchasing them!
Another factor to consider when choosing a supplier is reliability. It's not enough just to have the safety lights installed on your forklifts. These strobe lights need to be reliable; otherwise, they won't work properly and will likely cause incidents.
Why is it so important to choose a reliable LED forklift warning light supplier?
Choosing a reliable LED forklift warning light supplier in China is important because you want your business to be safe!
The lights should alert workers about potential safety hazards, improve visibility- especially at night, and clear information about forklift truck location during bad weather conditions to improve the organization's efficiency and increase workplace morale by preventing any potential injuries. So that's why it's so important to choose a reliable forklift truck lights supplier in China.
What's more, the LED light supplier should specialize in producing brake lights, provide customized products according to the client's specific needs and offer after-sales service, giving years of warranty.
When choosing an LED warning light manufacturer and supplier, you should look for the following qualities:
Professional experience in producing such products – They must have at least three years of experience.
Specialization- Taking into account that each business is different, you need to find a qualified company.
Added features – The forklift truck lights supplier should provide you with the necessary design, development, and production planning for your product.
Custom solution- Each business is different, so it's important to find a company that can offer custom designs. This states that they will make LED warning lights according to the specific requirements of their clients, background-color scheme, labels.
How can you find a reliable LED forklift warning light supplier in China?
You can look for a reliable supplier by researching online. Find out what other clients have to say about the services of the potential supplier and their products- this way you will avoid any problems later on. You should also check whether they are already working with other well-known brands or companies. If so, try to contact them and ask for more information. And also, you can ask for samples or go to visit their factory in China.
However, it is safe to have an online audit by Zoom or use a third-party audit due to the coronavirus issue. Additionally, you can ask for a price quote from different suppliers and choose one according to your budget and the quality of services.
What are the types of Forklift safety lights?
There are many types of forklift truck warning lights, including:
LED flashing light bars.
Led panels.
LED spotlights.
So it is important to find out whether they offer. And the supplier can be your one-stop solution with various assistive features.
 The four steps for finding and choosing a reliable LED forklift brake lights supplier in China
The first step is to check the supplier's sample light quality, a certificate obtained, and production capacity.
The second step is to pay attention to LED forklift warning light color, whether it can be customized or not. For example, are they offering services for a logo on forklift or not!
The next one is to consider product cost and service time. Go into detail when choosing suppliers with good after-sales services.
And the last but not the least factor is to confirm the quality of the LED forklift warning light with your supplier so that you will get exactly what you want.
FAQs on how to find and choose a reliable LED forklift warning light supplier in China
What are the benefits of using LED warning lights?
There are numerous benefits to using LED warning lights for your forklifts.
They produce a brighter light than traditional incandescent bulbs, increasing visibility and preventing accidents at night or during bad weather conditions.
Another plus is the fact they use less energy- this means lower current draw from your vehicles.
How Blue Spotlights and Red Zone Forklift Lights Improve Forklift Safety?
Blue spotlights positioned on the front and/or back of the lift truck warn pedestrians of the presence of a forklift and its speed, preventing forklift accidents. It produces a strong blue light about 8 feet ahead of or behind the forklift, depending on the location of the light.
Forklift lights in the red zone highlight areas on each side of the forklift that pedestrians should avoid. By reminding employees to maintain a safe zone, you may reduce the likelihood of someone being struck by the forklift's rear-end swing as it rotates. But be sure to keep it away from an eye distance as it may produce a vision-impaired profile if not correctly mounted.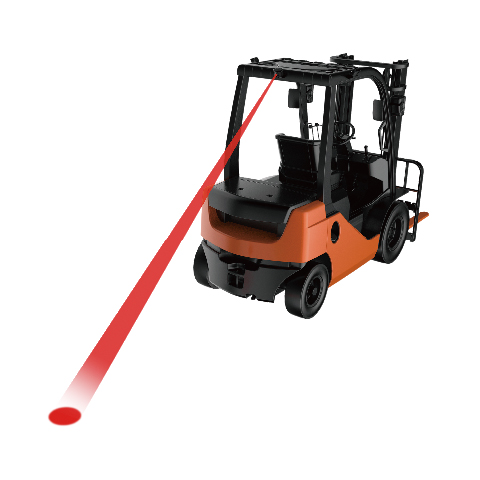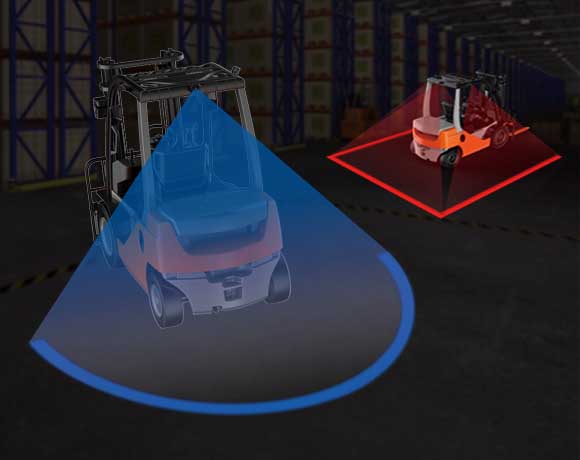 Why should I choose a reliable company for LED forklift warning lights? 
This company offers LED forklift warning lights on all of its trucks. The forklift operators can activate the lights when he plans to back up, turn around on a narrow aisle, or move into another lane that is not clear of pedestrians on foot. The auxiliary light profile significantly reduces distractions which is very helpful in getting the attention of people.
The LED warning light will project a vivid red/blue warning line on the ground around the forklift's back so pedestrians can see and know their way. Another important benefit is that they are adjustable and can be turned on or off depending on whenever they need to activate. Finally, LED lights for forklifts to last longer than traditional bulbs, and even come with a warranty in most cases.
Here is another FAQ section!
What to look for when selecting an appropriate, high-quality, cost-effective, and durable product from an experienced manufacturer; with years of experience producing quality products that meet international standards (ISO 9001) and your requirements (ease of installation/use, size, color, etc.). Find out in this FAQ section!
How to Install forklift safety warning lights
Our warning lights have a strong and durable swivel bracket and every easy to install. Typically, the overhead guard is equipped with blue safety lighting and pedestrian red zone lights. This overhead guard shields them from crashing or being knocked off during indoor operations.
With the optional wiring harness, you can connect our emergency light to your existing battery or power supply with black wires into positive (+) red wire to return (-). Its voltage range is 10~80V and suitable for most of the forklift trucks on the market. And the light will be on once your forklift starts. If you have any questions about our warning lights or their danger zone, safe distance, do not hesitate to contact us!
 What colors of forklift headlights are available?
Red, green, bright blue light is available.
How do I know which type/style to choose from? 
AA95 for arc warning light and AA96 for zoom line warning light.
What models are available for Red/blue spot safety lights?
AB54 series are for the red and blue spotlights.
Don't waver to get in touch with us if you have any more questions. Or mail us ask for a quote.